ANOTHER WHIRLWIND OF A WEEK – OR FIRESTORM, OR HURRICANO, or whatever metaphor of calamity or disarray you prefer – has disappeared beneath our equally metaphorical belt, and amid the torrent of information it's hard to keep things straight. Let's see, now. The Great Post Office Dismantling is still in the news (many of the massive, high-speed sorting machines have already been trashed, with no apparent plans for replacement). Wildfire season has moved into overdrive, and California is ablaze. (So are parts of the Pacific Northwest, but so far, not as drastically.) The Democratic National Convention has been chugging along, with the Republicans to follow soon. Former White House strategist Steve Bannon and three others have been arrested on charges of defrauding hundreds of thousands of people who donated roughly $25 million to build a wall along the Mexican border. (No, this is not a story pitch for an Oliver Stone movie).

In Portland, federal policing forces reentered the scene when Black Lives Matter and anti-government protesters turned their attention to a U.S. Immigration and Customs Enforcement (ICE) office, and a man who by some reports had been hounding downtown protesters crashed his truck and then was kicked unconscious: Details of circumstances leading up to the attack remain murky.

Back in the wider world, a bipartisan Senate Intelligence Committee report declared that the Trump campaign and Russian officials did, indeed, cooperate or collude during the 2016 presidential election, and yet another political opponent of Russian strongman Vladimir Putin has been mysteriously poisoned. In the midst of a global climate crisis, which includes the melting of polar icecaps, the U.S. government opened 1.5 million acres of the Arctic National Wildlife Refuge in Alaska to oil and gas drilling.

Oh: And the Covid-19 pandemic just keeps on rolling, especially in the United States, where the official death toll has risen to more than 173,000, including more than 400 in Oregon.
THE WORLD OF ART, OF COURSE, CAN BE A REFUGE, an escape from the issues of the day and an immersion in a longer view of life and its many wonders and possibilities. A still-life painting or a lyric poem or a hummable tune or a beautifully turned craftwork will always be with us, comforting and inspiring, and it's no accident that in times of crisis comedy tends to flourish, both as a relief from and an irreverent thumbing of the nose toward the insult and injury of hard times.

But even more fundamentally, art is an inevitable reflection of and response to its times – the mirror on the cultural wall that reveals to us the deeper and lasting impressions of the fleeting moments that can seem so shattered and unfathomable in isolation. And the twin crises of a pandemic and an urgent national clash over racially motivated violence and deeply ingrained cultural disparity is bringing about its own, often improvisational, artistic response.
IN THE LENS IS CRACKED: ART AND PROTEST IN THE SUMMER OF 2020, freelance journalist Andrew D. Jankowski and artist/curator Safiyah Maurice track three months of Black Lives Matter protests in Portland and the ways in which art and artists have played significant roles. It's a frontline report from two activist participant-observers, and the immersive view from the front can be radically different from the view from our television or cell phone screens. Jankowski and Maurice add a historical lens to their moment-by-moment observations, emphasizing longstanding structural racism as a root disease, and they don't separate art from protest politics. They tackle topics from the ethics of photography and the art of sharing food to the uses of social media and the varieties of artistic expression in pursuit of racial and social justice. "(S)tories and poems shared by Black Portlanders have been some of the most important and underreported news during these protests," they write. "Catharsis is the experience for the speaker making their story heard. Enlightenment is the experience for the listener taking on imparted wisdom."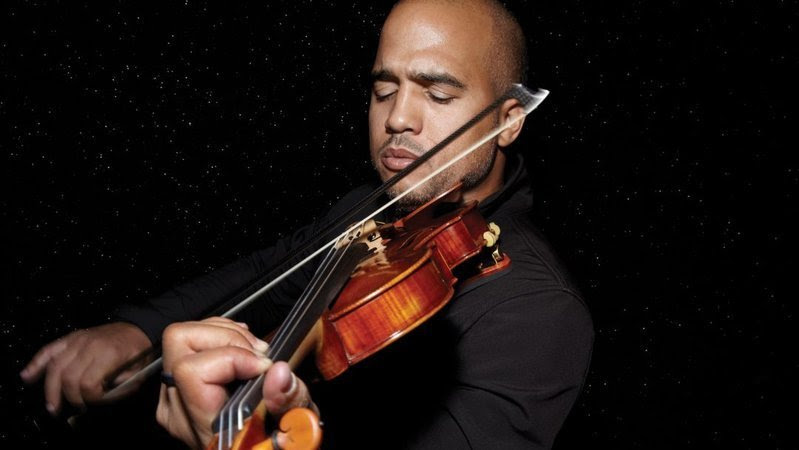 A PAIR OF OTHER ARTSWATCH STORIES FROM THE PAST FEW DAYS dig fascinatingly into the ways that art and artists confront racial and social issues, not in the streets, but in the daily approach they take to their work. In Bending genres to the world's shape, Angela Allen talks with the composer and violinist Daniel Bernard Roumain, or DBR, as he's known professionally, about his longstanding commitment to breaking down the barriers in classical music that keep it an overwhelmingly white and European-dominated art form. "Classical music remains racist," DBR, whose music is being featured this weekend in a Willamette Valley Chamber Music Festival virtual concert, told Allen.

DBR looks to fundamentals. How to get more black or brown kids involved in music? "First, I would refer to them as Black and Brown children," he responds. "Second, plenty of Black and Brown children are involved in all types of music. Third, perhaps more classical musicians could respond to the music they love and start programming and collaborating with and commissioning those artists more regularly. For example, why not use the music of Ellington or Eminem towards the study of harmony? Why not use Drake or Public Enemy to best explore complex rhythms? Let's use Billie Holiday or Sade to understand melodic structure. How about Prince to understand timbre? Perhaps the better question is how do we get white people more interested in Black and Brown music?"
AND BOBBY BERMEA CONDUCTS AN ILLUMINATING INTERVIEW with Ashwini Prasad, an Oregon screenwriter and South Asian Indian immigrant who's published a new book, How To Write Inclusively, aimed at her fellow writers for the movies, television, and other forms of screened entertainment. In Writing it right in Hollywood, Prasad tells Bermea about a racist encounter from her childhood and her subsequent commitment to social justice. In her quest for unbiased and better screen stories, she's challenging more than a century of casual and not-so-casual disparities, inaccuracies, and cheap jokes. "We don't need every Black male to be in a gang when we go to our screens," she tells Bermea. "We don't need every Indian person to be an immigrant, cuz that's just not true. We don't need every trans character to be laughed at." Part of her advice to screenwriters who want to get it right: "(Y)ou need to do the research just like an investigative journalist or someone who does documentaries. You need to go and you need to talk to people. You need to ask permission, you need to be respectful, you need to be humble. And you need to be willing to say, 'okay, what would you like to see be represented when you see x?'"
---
INSTAGRAMMATICAL: ON ART TO SEE & BOOKS TO BUY
---
ONE OF OUR FAVORITE SERIES RECENTLY HAS BEEN ACCOUNTS TO FOLLOW, writer Shannon M. Lieberman's investigation of the world of Instagram art, and her discovery of Oregon artists who are regularly posting invigorating and creative work that's well worth, well, following. In Accounts to follow: Bold forms and process, the fifth and final chapter in her series, Lieberman looks at work by Jude Morales, Jess Faulk, and Madeline Kate Martinez, three artists who use "strong shapes and bold patches of color" and also "include numerous images and videos of their process and works-in-progress." Lieberman quotes David Hockney's remark that "It takes a long time to make it simple" and applies it to these works
On Martinez' untitled image above, Lieberman writes: "Beneath a full moon that illuminates the pink and tan earth and the line of blue mountains in the distance, the figure stands with their back to us, looking out at the landscape. The simplified forms give this contemplative scene a sense of focus. While there are some details—in the tattoos, in the fronds of a plant in the foreground—the streamlined forms help viewers sense the desert's vast stillness. Martinez's limited palette of pinks, greens, blues, and whites is typical of her desert images, and a means by which the artist creates 'balance between simplicity and impact.'"
PORTLAND WRITER AND PHOTOGRAPHER K.B. DIXON has been putting his own spin on Hockney-like simplicity (or, as he puts it, "a sort of half-assed homage to art's essential elements and to the great Italian painter Giorgio Morandi, one of the still-life genre's most gifted obsessives") in his latest series of still-life photographs, these ones of simple building blocks in various combinations.
In Still Crazy After All These Months, Dixon comments: "It has been months now since my last foray into still-life, and I am still here sequestered, hiding as best I can from the prowling plague known as Covid-19. The people I am sequestered with are still not interested in being photographed, and the places I am sequestered in still remain private rather than public—so, as a photographer trying to stay photographically fit, I am obliged to turn my attention yet again to the charm of 'things.' … I am taking a look at something more 'abstract'—the basic building blocks of visual art, the meditative mystery of form. My hope has been to produce a moment of order and quiet at a time of disorder and noise. …"
AFTER MANY A MOON OF FORCED SEPARATION FROM THEIR FAVORITE URBAN HANGOUT, hundreds – nay, thousands – of Oregon bibliophiles are over that very same moon at the news that Powell's City of Books, that teeming mass of printed pages (yes, it's true: Beneath its sprawling ceilings live more than a million volumes) will reopen on Friday. Hours and access will be restricted: Only the Green and Blue rooms will be open (and the coffee shop won't be open), but those are very big rooms.
As it happens, the City of Books is also one of K.B. Dixon's favorite places in the world. ("It is not 'a' bookstore – it is 'the' bookstore," he wrote in 2017, when he was creating his book of photographs The Bookstore. "It has been my bookstore for more than thirty years.") And that reminds me that he's created two photographic odes to Powell's for ArtsWatch: 2017's Portland's Grand Central Station and April 2020's Powell's Books: The next chapter?, his look back on the life and times of the mini-city upon the news that a surge in online orders was keeping the company afloat during the coronavirus shutdown and allowing it to bring back 100 workers.
---
TESTING, TESTING. CURTAINS UP? CURTAINS ON?
---
Director Jennifer Hamilton (top left) meets with the Act Two Players in the Oregon Coast Council for the Arts' Online Summer Drama Club. The club meets twice weekly in preparation for virtual performances later this month. Photo: Lori Tobias
WHEN THE PROSCENIUM ARCH IS A COMPUTER MONITOR. It's a situation that's been puzzling theater companies across Oregon and much of the world in Our Pandemic Times: How can you create the presence and everyone's-in-the-same-room vitality of live theater when you have to do it virtually, through a screen, instead? Lori Tobias checked in on the Oregon Coast Council for the Arts' Online Summer Drama Club, which ordinarily would have been a real-time, real-space summer program for kids while school was out. Switching things to online, Tobias discovered, created frustrations – but it also created its own intriguing challenges, learning opportunities, and even joy. You never can tell, apparently, 'til you try. Oh: And, turn off the mute button.
---
MUSIC FOR ALWAYS, SONGS FOR RIGHT NOW
---
MUSICWATCH WEEKLY: FOR THE RECORD. Music Editor Matthew Neil Andrews takes us for a spin through a hefty platter of great music for our virtual listening pleasure, in many shapes and styles, from Breonna Taylor's favorite song (Mary J. Blige's Everything) to a masterwork by a local choir ("Sweet Mother of God, the latest In Mulieribus album is good!") to the Kronos Quartet and the San Francisco Symphony to new stuff from the Portland Jazz Composers Workshop and more. Yes, "more" includes that little ditty from China Forbes.
---
URBAN AND RURAL, BRINGING IN THE CROP
---
ONE OF THE PRIMARY REASONS THAT MANY OF US LIVE IN OREGON is the state's easy access from urban to rural and rural to urban. Oh, sure, there are family squabbles. Urbanites all too often look down their noses at their country cousins. Farm and ranch types grit their teeth at city politics and generally laugh at the practical uselessness of urban types when handed any sort of physical task.
But not much brings us together quite so readily as food. Which is as good an entry as any to my confession that for a couple of days this week I put things arty aside and devoted myself to what we used to call Putting Food By. It was going to happen very soon no matter what, but it happened this week because of an Unfortunate Internet Event – apparently the Whatsit needed to be connected to a brand new Thingamabob, which needed to be purchased, and without which the household had no access to the Information Superhighway. So, over those two days, 27 quarts of dill pickles, 20 pints of sweets, and 17 pints of bread and butters made their way into the household pantry. Due next, probably in a couple of weeks: salsa and tomato sauce. The Other Two Human Inhabitants (Alice the cat provides entertainment only) also, as I was writing this, waltzed into the house with a very large box of apples from the front-yard tree, which in its rather brief life has never before been so fecund. And there is talk of chutney made from a neighbor's overflowing crop of Italian plums.
All of this urban agrarian busy-ness comes full circle with the announcement that the Hallie Ford Museum of Art in Salem is reopening (yes, with restrictions, of course) today, and with the arrival in yesterday's mail of the museum's Brushstrokes newsletter and its news that an exhibit titled Forgotten Stories: Northwest Public Art of the 1930s will be opening on November 28. The show's cover image in the newsletter is Arthur Runquist's 1939 Lunch – of two farmhands taking a break – and it happens to be one of my favorite Oregon paintings from the WPA years. Work hard, rest well, bring in the crop. That's still an Oregon story worth the telling. (And lately the Younger Member of the Urban Household has been making bread.)
---
ON THE OTHER HAND … WHOSE BOOK IS IT, ANYWAY?
---
"A FAVORITE BIT OF ADVICE ABOUT WRITING CRITICISM is from Anthony Lane, in the introduction to his collection Nobody's Perfect. It's just five words: 'Never read the publicity material.' The problem, he writes, is that the provided synopses deliver 'a false impression of coherence.' My corollary to Lane's maxim would be: 'Even dust jackets.' *
"… I began this review with Lane's maxim because critics hate to be lost. We're control freaks, most of us. We like to feel we can tack down the four corners of any situation, even in high wind. It's a mental habit worth breaking. It's potty training in reverse."
– Dwight Garner, reviewing Ali Smith's novel Summer in The New York Times
---
Give today. Keep the stories coming.
OREGON ARTSWATCH WELCOMES YOUR HELP during the coronavirus crisis. Your donation at this critical time will go toward the Full Circle Fund to provide free ads to all cultural nonprofits in Oregon and Southwest Washington for one year. Every dollar raised will be magnified six times.
Become a member. Make a donation.
Just press the "donate today" button below.