IT'S MID-FEBRUARY, THE SKIES ARE SULLEN, and all that holiday cheer has faded away: As Laurel Reed Pavic suggests in her column Signs and Portents: The urge for color, we're sludging through a "post-twinkle winter slump." There's always Valentine's Day, of course, for a quick pick-me-up. (Chocolates and flowers are a good idea.) And for a longer-lasting effect, how about something downright bright? "In the face of all this gloom," Reed Pavic writes, "I thought I'd be most taken in by color this month." In her February cruise through Portland's First Thursday gallery shows, she discovered color aplenty, sometimes with complex and surprising meanings.
Froelick Gallery, for instance, "entices gallery goers in the door with a large colorful work by V. Maldonado. Cheer is dashed a bit upon learning the title is Carcel de Niños (Jail of Children), but it was color that got me in the door." Adam Sorenson's neon rivulets and glowing rocks at PDX Contemporary brighten things up considerably; and at Augen Gallery, Tallmadge Doyle and Friedensreich Hundertwasser combine charm and brightness with some urgent environmental themes. Color, of course, is in the eye of the beholder, and although she declared herself "pretty done with gray," Reed Pavic found herself attracted to the several shades of it in Dana Lynn Louis' new show of meditative works at Russo Lee Gallery. She quotes the artist: ""It is increasingly important to me that all my work, no matter its form, moves toward light, weaving us together and creating levity and beauty along the way."
***
Friderike Heuer, meanwhile, found extraordinary color and creativity in the art and atmosphere of the Portland Art and Learning Center, a program of Albertina Kerr for people with intellectual or developmental disabilities. The work stands on its own, as Heuer makes clear in her story At Albertina Kerr, art of ebullience. Much of it is on exhibit through February at Gallery 114 in Portland, in a show titled Ebullience, and Heuer comments: "The title couldn't be more fitting: The work on display lights up the gallery's rooms."
---
PRESIDENTS DAY AND THE BUDGETARY RED PENCIL
---
MONDAY IS PRESIDENTS DAY, originally set aside to celebrate George Washington's birthday, later adding Abraham Lincoln's, and eventually extended to include all past presidents of the United States. Each, of course, has a complicated history of give and take, rise and fall, wheel and deal, occasional triumph and occasional huge mistake. And each has had his obsessions. One of the obsessions of the current holder of the office is to kill all arts and cultural programs of the federal government.

For the fourth straight year, his proposed federal budget calls for the elimination of the National Endowment for the Arts, the National Endowment for the Humanities, the Institute of Museum and Library Services, and the Corporation for Public Broadcasting. So far, Congress has refused to comply, even adding modest raises to the relatively slim budgets of each. Most senators and representatives recognize that cultural spending is popular in their districts, and for Republican members of Congress, a vote to retain these agencies is a relatively easy way to signal a modest amount of independence from the current administration without having to suffer undue consequences. Expect the same thing to happen in this year's budget deliberations. On the other hand, don't count your cultural chickens until their hatched: Far stranger things than shutting down arts funding have happened in the current culture wars.

Meanwhile, newspapers, for all their inevitable failings in grappling with the nitty gritty of the news, continue their freefall, buffeted by technological revolution and the near-disappearance of their once lucrative advertising base. News comes today that McClatchy, one of the nation's biggest newspaper chains, has filled for Chapter 11 bankruptcy protection. How that will sort itself out isn't clear. But the loss of a strong daily press, which traditionally has ferreted out and dispensed the information of consequence that has allowed the cultural world to flourish, is a continuing disaster. A fascinating aspect of the linked Washington Post story is that "71 percent of U.S. adults think their local news outlets are doing well financially, and just 14 percent have directly paid a local news source." Virtually no newspaper is "doing well" financially. And, as with lunch, there ain't no free news.

---
DANCE: SLEEPING BEAUTY TO FLAMENCO
---
IT'S A BUSY, BUSY DANCE WEEK, leaping from a suite of seven world premieres at BodyVox by the Darvejon Jones Dance Ensemble to a new work at PICA from Rejoice: Diaspora Dance Theatre, the eagerly awaited return of Christopher Stowell's The Sleeping Beauty at Oregon Ballet Theater, Anita Menon's Indian choreography for Northwest Children's Theatre's Bollywood-tinged The Jungle Book, and even a 3D movie featuring the late, great Merce Cunningham. Jamuna Chiarini's DanceWatch Monthly has the details.

FALLING FOR FLAMENCO. Lori Tobias talks with dancer and teacher Laura Onizuka, who's leading a flamenco retreat on the Coast: "It's important to be aware of where this art form comes from. It's a culture, not just some dance moves."
---
CULTURE: HOW WE LEARN, WHAT WE SEE AND THINK
---
ARTS ED: TWO SCHOOL EXPERIMENTS CENTER THE ARTS. As the role of arts in education diminishes because of tight budgets and an emphasis on STEM subjects (science, technology, engineering, math), Nim Wunnan takes a deep look at two experimental programs in Portland, Wayfinding Academy and Alder Commons. They're not art schools, but creativity is at their core. It's the newest story in our occasional series "The Art of Learning."

LAND & WATER: BY NECESSITY. Friderike Heuer investigates in words and photos the links among culture, politics, identity, art, and environmental rights through a gathering of Native American activists and allies and an Oregon-produced documentary film on the battles over pipelines.

COMING ATTRACTIONS: McMINNVILLE SHORT FILM FESTIVAL. The wine country film fest, David Bates writes, has blossomed since its beginnings in 2011, and this year will screen 85 U.S., Canadian, and international films during its Feb. 21-23 run. Bates also tours Yamhill County's galleries and jazz spots – all between his own performances in Gallery Theater's comedy Noises Off. Not just the show, but the column, must go on.

SOUTHERN RITES AT THE JEWISH MUSEUM. Photographer Gillian Laub's deeply documented exhibition on the contemporary persistence of historical racial attitudes in the South is visual activism at its best, Friderike Heuer declares in her review of Laub's Southern Rites at the Oregon Jewish Museum and Center for Holocaust Education.
---
SOUND & STAGE: PHANTOM ZONE, MONSTER MASH
---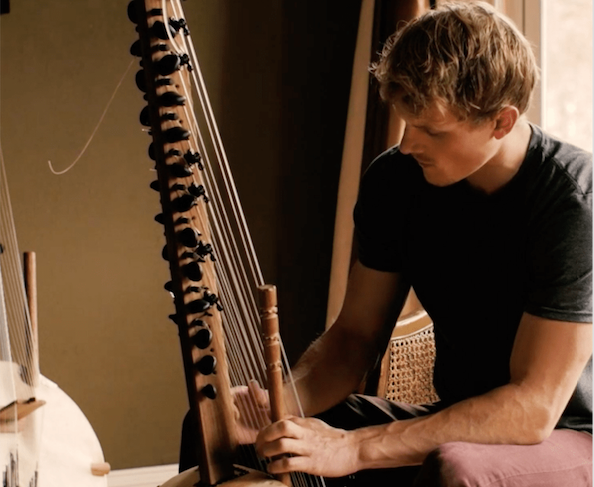 "IN THE COMING WEEKS," Matthew Neil Andrews writes in MusicWatch Weekly: Living traditions, "we'll be running a series of essays exploring 'living traditions' through the lens of several recent and upcoming concerts across a handful of genres and subgenres, most of which stray into the phantom zone of 'world music.' … The label makes life easier for record stores, which have to put that stuff somewhere, and the truth is that 'the West' does have quite an appetite for these global musics. But we westerners tend to fetishize these global musics as something other, something from elsewhere, perhaps something we've lost or forgotten in 'our' musics."

DRAMAWATCH: MONSTER MASH-UP. Marty Hughley takes a deep dive into the world of Philip Cuomo's CoHo Clown Cohort, a project that over the years has provided "fun of a high order, inspired lunacy resolving itself into a deeper sort of sense." The Cohort's elaborately titled latest, Beethoven & Chopin (Monster Hunters) Meet the Bride of Frankenstein (a Romance), which was given a workshop production in the recently concluded Fertile Ground festival, signals that "we're going over the top here for a reason."