Dan Bosshardt was bicycling around his hometown of Hillsboro one weekend during the recent plague. "It was one of those long bike rides when your mind clears and you reset the creative palette," he remembers. As he passed various public spaces, he noticed adjacent sizable sculptures. Like anyone who frequents Hillsboro's parks, plazas, and civic buildings, Bosshardt, who's lived in the city since 2007, had seen them before. But this time, thanks to that newly cleared mind, he really paid attention. And he realized something that had never occurred to him. "It dawned on me that some of the sculptures had elements in common with music."
He was acquainted with both art forms. Though he's a schoolteacher by day, Bosshardt is also a professional musician who graduated from Boston's prestigious Berklee College of Music with graduate degrees in woodwind performance and music education. And he'd long harbored another secret artistic passion. "I've been paying attention to sculpture for awhile," he says. "When I retire, I tell myself, I might become a sculptor." Compared to music's invisible evanescence, sculpture offers a tangible, durable physical connection to the space it inhabits. "And it's something you can build with your own hands," he explains.
He's not retired yet, and in no position to start building sculptures. But on that ride, he wondered: could he translate the physical forms that so beguiled into the art form he did practice today — music?
The answer proved to be a resounding success, culminating in a new album, Out There Jazz Suite, and a multimedia concert this spring at Hillsboro's Walters Cultural Arts Center. The project also represents another synthesis: a collaboration among Hillsboro composers, musicians, sculptors, and the city's arts program. Out There isn't the first such creation, but it could serve as a valuable model for other Oregon artistic community collaborations.
Pandemic pivot
Bosshardt had actually put active music making on hold after he and his wife moved to Hillsboro from Kobe, Japan to be closer to their newborn son's grandparents. Though he'd performed jazz and musical theater at storied New York venues–played with Aretha Franklin and jazz stars like Rudresh Mahanthappa and Mark Turner–now, parenting and his job teaching elementary school (including leading the school's mariachi band) consumed most of his time for the past couple of decades.
When the coronavirus pandemic shut down band activities, including its big annual Cinco de Mayo performances, Bosshardt found himself stuck at home, missing music. "What can I actually do at home?" he wondered. "I can practice, I can play music for myself." It felt good. Then came the urge most musicians get: how could he play with others? "How," he asked himself, "am I going to get back out there?" Those last two words became watchwords for his next project.
Bosshardt knew fellow jazz musician Joe Aloia, who lived in his Hillsboro neighborhood, and who wound up writing some of the Out There pieces and playing guitar in the quartet. They formed a little pandemic practice pod, jamming in Bosshardt's house with the windows open (weather permitting). Then came the fateful bike ride.
Bosshardt proposed that the duo pick ten favorite local public artworks and compose original music inspired by them. They took multiple excursions, often bringing family members, to public art installations throughout the city. Along with his own experience of each artwork, Bosshardt also benefited from the Public Art Archive's online resources, such as this one. (The archive is the credited source for all the photos of the exhibits in this story.)They culled the list to ten extremely diverse sculptures, and commenced composing.
Community connection
But instead of returning to his old conventional approach and playing the music in jazz clubs, Bosshardt wanted to present what became the the Out There Jazz Suite in public spaces frequented by more than just jazz insiders, culminating in a public concert at the city's Walters Cultural Arts Center, with projected images of the art that inspired the music.
Creating a collaborative, community-inspired project "seemed like a natural outgrowth of where I'm at as a member of the Hillsboro community, and to honor where I was as a teacher and a dad," Bosshardt explains. "I've enjoyed great support and advice and community cultural inspiration" throughout his years as an educator here, including support for the youth mariachi band he founded, working with the Right Brain Initiative, and other efforts.
"It's important for professional artists to connect with the community art scene and teaching artists, and connect students with community artists to get them thinking and learning and creating in new ways," he says. "If you give students a little encouragement and the right tools and resources, there's no telling what they can do." One of his former students even guested on one of the pieces in this spring's culminating Walters concert.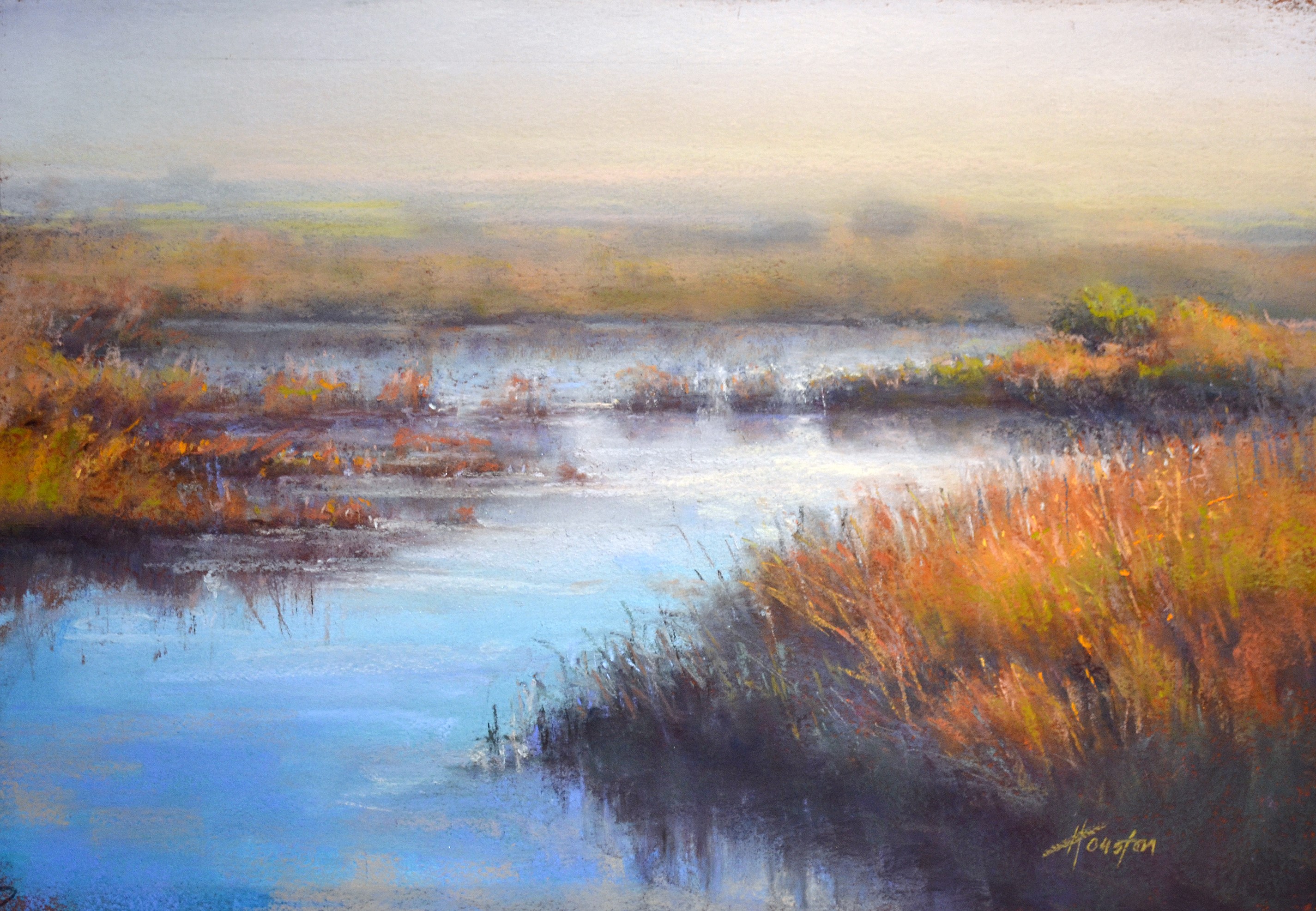 He also wanted to tap into denizens' "pride of place, the Hillsboro arts community, people that are proud and active in the artistic scene, including professional artists, people who are trying to raise the quality of life through the arts in Hillsboro," he recalls. "I wanted to make them feel connected. Like for [Amanda Houston's] "Jackson Bottom Mist," most people in Hillsboro have an experience of really nice walk and connecting with nature in Jackson Bottom wetlands. They're special to us. I wanted to honor that sense of civic pride. I'm a part of this community and enjoy what it has to offer."
He and Aloia resolved to seek out grants and other community support for the composition and recording of their new music. "Through this project," he wrote in the grant application, "we are hoping to highlight existing artwork, create new musical work, celebrate creativity, bridge artistic disciplines, contribute to our community, and bring people together."
City arts leaders valued that vision. "We've been thrilled to watch Dan join forces with other local musicians to create music inspired by pieces from our public art collection," Lynn Scheller, who chaired the Hillsboro Arts & Culture Endowment that presented Bosshardt's Out There ensemble its annual Arts & Culture Award, told ArtsWatch. "We've been able to help support development of his project with grants, and the concert at the Walters was a result of our Use of Facility Grants for local arts organizations. So several of our arts programs came together to support Dan's vision." The project also received grants from the Regional Arts & Culture Council and the Richard B. Siegel Foundation with the support of the Hillsboro Community Foundation.
Sculpting sounds
As support began rolling in, the music began rolling out. How does a composer transform static visual art into time-based aural art? In a sense, sculpture is almost the converse of live jazz, where evanescent music arises in the moment and vanishes in the next.
But Bosshardt also realized there's a time-based element to sculpture, because while the art itself stays static, the response it provokes can evolve over time. "The world of public art and sculpture is really weird," he muses, "because there's all this initial energy and excitement about a new piece. The artists express themselves in unique way that may not resonate with everybody, then people have reactions, but over time, those pieces sometimes become part of the place and represent that place. There are these cycles of public perception and awareness of your work, but meanwhile, you've let go of the piece, and people continue to react. Different generations are reacting differently. That fascinates me about sculpture. You create it and then how much do you stay connected with results after you let it go?" So Bosshardt often looked for inspiration in his own and others' reactions to the art as well as in the artwork itself.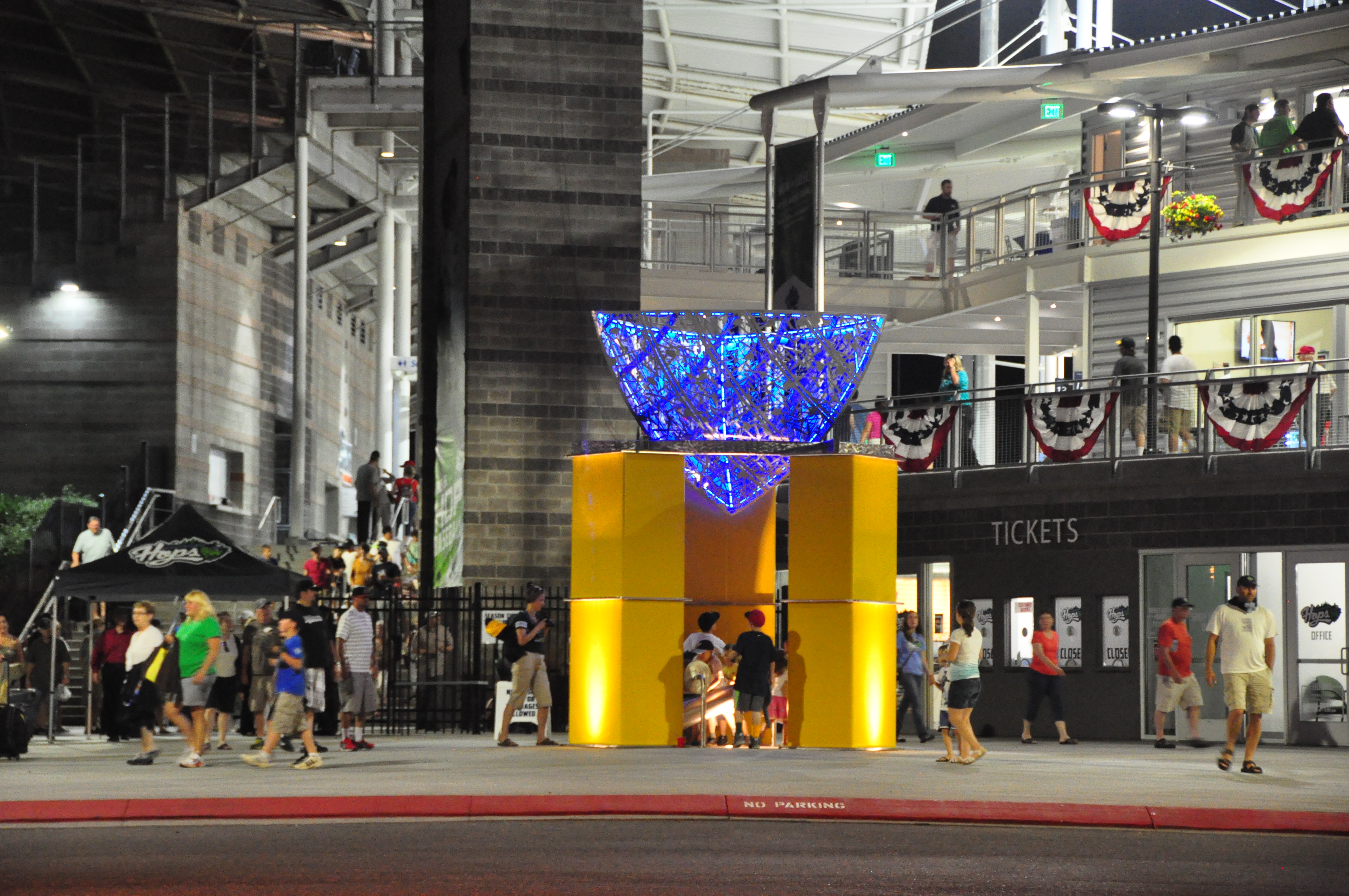 Even in the compositions that more directly reflected on the form of a sculpture, Bosshardt "gave myself permission not to try and encapsulate the whole piece in a musical representation, but instead to take one element or one idea from the piece — a feeling, a shape, a movement" and let it inspire his musical creativity. Composers have always used external stimuli to jump start their creative process, like John Cage's so-called Square Root system. Bosshardt's "Barometer," inspired by Devin Laurence Field's sculpture in the Gordon Faber Recreation Center, outside the Hillsboro Hops' soon-to-be-replaced stadium, drew on the famously number-obsessed sport's signature figures: three strikes and four plates became 3/4 (waltz) time, and various chord permutations arose from the number three.
Other compositions looked beyond the artworks to their surroundings. Aloia's breezy "Magnolia Park," for example, was inspired by the movement of the water flowing over artist Lynn Adamo's interactive mosaic, but also by the children who played around in it, "maybe bumping a knee and running to find mom," Bosshardt says. Dann Nardi's "Elemental Sequence" was designed to raise viewers' awareness not just of the sculpture itself, but also the natural setting it inhabited — birds, surrounding trees etc. Those found their way into the music in various guises.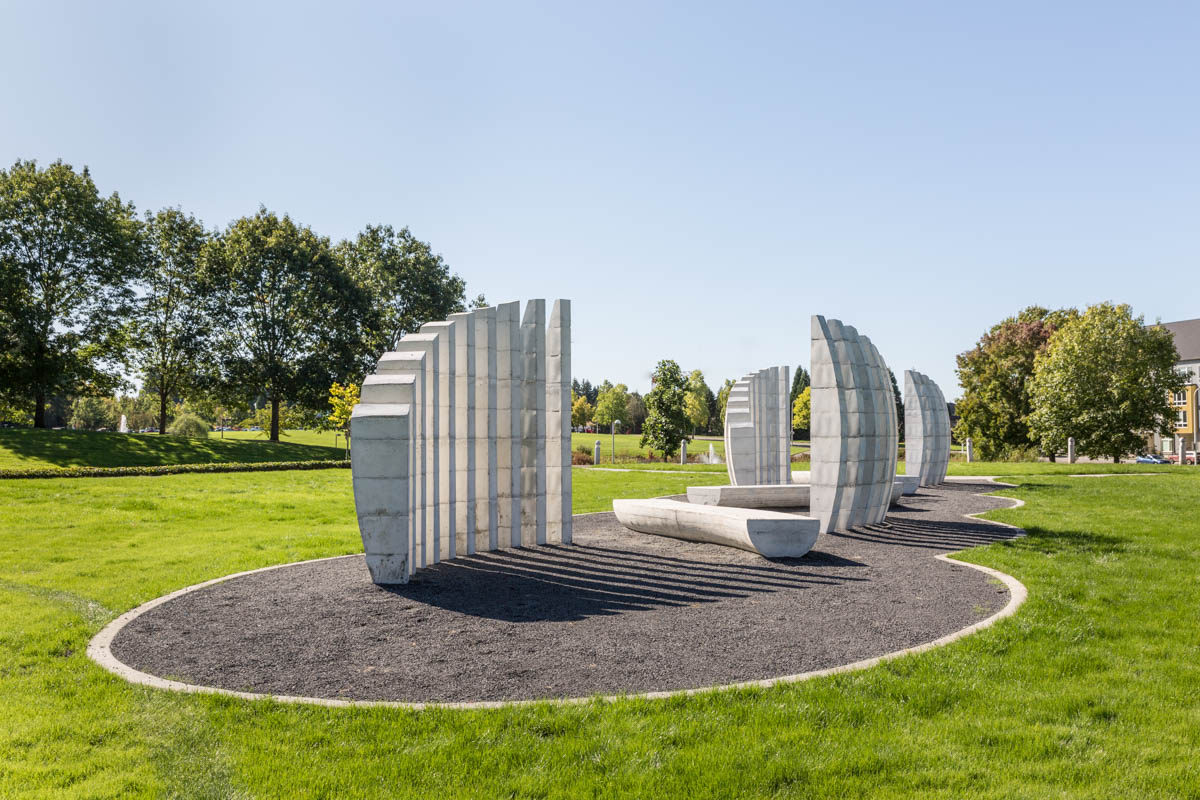 Bosshardt especially enjoyed talking to the sculptors about how their pieces originated, sometimes gleaning ideas how he might interpret them musically, "often inspired by my experience with the piece," running some of his ideas by them as they began coalesce. Other compositions drew on the sculptors' own creative approaches.
"I've been inspired about how the sculptors think about place," Bosshardt explains. For example, in creating "Reflected Past" at Orenco Station, artist Beliz Brother "knew the orchards and trees were part of the area long ago but how could she reflect that in a functional piece?" Talking with her gave Bosshardt some ideas about how to shape his musical response.
The artworks themselves, people's reactions to them, their surroundings, the process of their creation — all became fodder for Bosshardt and Aloia's original musical responses.
Bringing it home
With the compositions completed, they had to put a band together to play the new music. Bosshardt had played at Berklee with Portland jazz scene regular Stephen Pancerev, "a painter in percussive sound," whose astute drumming propelled both album and concert. And he knew pianist Jonathan Swanson not only for his music but also his nature photography and outdoor building projects. "He can see a project from many different angles and see how they connect," Bosshardt explains, a useful quality in a creation that amalgamated so many different artistic expressions.
While the pandemic raged, they rehearsed and recorded the album in 2021, released it last August, and that month gave the first public performance at an outdoor concert at the Orenco Station plaza that harbored one of the featured artworks, "Reflected Past."
But the project's real culmination was this April's performance at the Walters, where in his concise announcements, Bosshardt could illuminate the process of creating it, and the packed audience could see projected photos of each piece (taken by Bosshardt from multiple perspectives) as the band played each respective composition.
"Sometimes music can go a little too far Out There," Bosshardt jokes. "Sometimes we go beyond where we're invited to go just to be explorers. But like my wife said, 'When I heard the explanation and saw the photos, then it all made sense.' They could see how it all connected."
I certainly could, even beyond the "Take Me Out to the Ballgame" quote in "Barometer." Seeing a photo of Patrick Dougherty's "Head over Heels" definitely brought back my own memories of often walking and biking by the popular (and now returned to the earth) organic twig sculptures that adorned Orenco Nature Park, with the contemplative first movement evoking a pensive rainy day stroll before accelerating into an upbeat swinging section that reminded me of the many delighted kids I've seen playing around them.
James Schmidt's "Dancing Chairs" provided the sculptural answer to the question, how would you dance if you were a chair? And the music played along. Starting with an almost awkward uncertainty in stumbling, off-meter drum and percussion solo, the composition gradually gathers confidence and brings out the sculpture's playful sense of humor.
Despite the title–and appropriate to the broad audience Bosshardt was determined to reach–the tight, tuneful music didn't really venture "out there" in the sense that jazz types use the term. The closest, along with "Elemental Sequence," was maybe my own favorite, based on Adrian Litman's "Dynamic Orbits," featuring musical lines orbiting each other over a repeating two-note bass pulse, and a concert harp (played by a member of the Hillsboro Symphony), which reappeared, equally well-integrated, in "Flight," Robert Middleton's sculpture in the Hillsboro Civic Center. (Bosshardt switched from his usual alto sax to soprano, to strong effect.)
To my ears, the music reflected less evidently the artworks' forms (compared to, say Portland composer Andy Akiho's Beneath Lighted Coffers, performed the same month by the Oregon Symphony, which incorporates actual geometric patterns and ratios from its architectural source material, Rome's Pantheon), and more how the artworks made me feel, both during the concert and in earlier encounters.
The feeling was apparently shared by the enthusiastic crowd, which included some of the artists, families and friends of the band, and others involved in bringing the project to fruition. With a broader, more diverse demographic than I typically see in jazz shows, it had the feeling less of a concert than of a community celebration.
The suite and especially the multimedia concert also threw a spotlight on visual art that I either hadn't yet seen, or had seen but hadn't thought deeply about, or, I confess, that I'd encountered but hadn't really noticed. It made me consider the value of those artworks, both aesthetically and contextually — what they added to the cityscape. And it made me think about those parallels Bosshardt mentioned, between different forms of art inspired by the same sources. Taken as a whole, the project amounted to far more than the sum of its considerable parts. It became not just an expression of music, or sound, or image — but of a community. A community that values its public art and artists, because they value the community, and it in turn inspires them.
"I deeply appreciate all the financial, logistical, and creative people willing to hear my idea and give it time and space to grow," Bosshardt says. "I feel honored that supporters of the arts were willing to go out there with us, and to see this [project] as a way to provide support and encouragement for the soul of our artists and our community, but also as a way to bring people together through the arts."