WE ARE ALONE, AND YET WE ARE NOT ALONE. We may be in isolation for the safety of ourselves and others, but even from the relative solitude of our homes we are continually reaching out, looking for connections, finding new ways to be the social animals that human beings are.

How does that work, in our new Age of Plague, when our concert halls and music clubs and theaters and museums and even schools and libraries are shut down? Welcome to the world of livestreaming.
***
***
SITTING IN OUR HOMES (at least, those of us whose work is deemed nonessential, or who can work via telecommunication, and who therefore can sit safely in our homes) it's easy to think that we're ensconced in our own little microclimates, tucked away from the huge disruptions of an uncertain time. In a way we are. Yet the world remains interconnected, and decisions made on a broad scale can be of vast consequence to our private spheres. Who lives? Who dies? Who keeps a job? Who loses a job? How do the young among us get a toehold in a shattered economy? Will the old be allowed to live out their lives in dignity? It becomes more and more clear that a rational and just culture should be paying honest living wages to the people who actually make things or keep things running: the grocery clerks, water and electricity workers, medical and emergency personnel, farm workers, garbage collectors, teachers, factory and warehouse and restaurant and delivery workers – the list of people who keep a functioning society going goes on and on.

That includes cultural workers, the ones who help us imagine and explain.

A few days ago former United Nations Ambassador Nikki Haley, who is eyeing a 2024 run for the White House, denounced the small bumps included in the coronavirus-sparked emergency economic stimulus bill for the national endowments for the humanities and the arts, the John F. Kennedy Center for the Performing Arts, and national public broadcasting, appropriations totaling $200 million in a $2 trillion package. "How many more people could have been helped with this money?" Haley tweeted.

Haley's metaphorical wagging of her finger ignores the fact that artists are people, and that this is an economic stimulus bill, and that, like so many others', artists' livelihoods are at stake: In White Bird on the brink, Jamuna Chiarini discusses the economic threat not just to the dancers in the companies that Portland's venerable dance presenter White Bird has been forced to cancel, but also to the survival of White Bird itself. Haley's dismissal also misses the crucial point that art has always been core to any culture's sense of itself: a reflection, a compass, a self-identifier, a challenge. Art critic Ben Davis makes the case for Artnet News.
***
THAT COMPASS POINTS to all corners of the culture, as Executive Editor Barry Johnson intends to make clear as he launches his new ArtsWatch column, Starting Over.

"If you don't have a local culture," Johnson writes in his first Starting Over column, The arts fight back, "then all you're left with is commodity culture, produced to extract money from you and nothing more. It's silly, empty, engaging, witty, catchy. Also sexist, racist, xenophobic. It manipulates the darker side of the human experience because it knows it can get a rise out of you. It doesn't worry about the consequences—it has not morality or ethics. It's whatever it takes to move money from your account to THEIR account. You cannot build a successful society on this sand."
***
Photographer and writer K.B. Dixon, whose camera ordinarily turns to street scenes, public attractions, and studio portraits of artists, found himself instead focusing on the everyday domestic objects in his own home. See the results in Still Life in a Time of Sequestration, including Dried Flowers, above, 2020.

***
ART CAN BE ENTERTAINING and even sometimes trifling, as life itself can be, but that doesn't mean what it offers is simply escape.

The other evening I checked the pile of books on my bedside table and picked up one that had been sitting there unread for two or three months, What Are People For?, a collection of essays by the traditional farmer and environmental and cultural writer Wendell Berry. "It used to be that I could think of art as a refuge," Berry wrote in a 1975 essay he titled Damage. "… I am no longer able to think that way. That is because I now live in my subject. My subject is my place in the world, and I live in my place. There is a sense in which I no longer 'go to work.' If I live in my place, which is my subject, then I am 'at' my work even when I am not working. It is 'my' work because I cannot escape it."

Berry was talking about the writing life, but he could have been speaking about all artists, and the state of living in the art – not as an escape, but as a full immersion; not as a product but as a revelation and, perhaps, a beacon for the culture at large. Berry's idea of the immersive, fully engaged life seems central to the arts (as it might also be to a mathematician, a physician, a research scientist, a teacher). I go to his writings sporadically, because I find him a challenging and deeply provocative thinker, engaged with vital issues that are all too often ignored, but also often frustrating in his distaste for modernity and his devotion to what strikes me as an overly romantic notion of the virtues of the past in contrast to the sins of the present. When it comes to imaginings of the future there's a bit too much Jeremiah and a bit too little Buckminster Fuller to him for my taste. He also seems to me to overlook the seriousness and value of the lightness of being, which by its very lightness can get away with some startlingly sharp social observation and commentary. It's no surprise that one of the golden ages of artistic popular American comedy in music, theater, movies and dance came during the Great Depression and World War II. In hard times we need tough skins. We also need lightness and laughter.
***
DID I MENTION COMEDY WITH A BITE? Last week's column included the news that Great Britain's National Theatre is beginning a series of free home streaming broadcasts on YouTube of NT hit productions, beginning today with the roaringly funny One Man, Two Guvnors. That got me thinking about Carlo Goldoni's 1746 Italian farce The Servant of Two Masters, on which Two Guvs is based, and about the sparkling 2009 production of it, during another time of economic upheaval, at the Oregon Shakespeare Festival, which is now shuttered until September because of coronavirus concerns.
 
What I wrote about Ashland's Two Masters in 2009, in this review, still stands – and stands, I think, for comedy in general as a social vehicle, maybe even especially in tough times: "(T)he festival has long delighted, and delighted its audience, in theatrical self-reference. Such plays speak to the magical duality of theater, and of art in general: It is of utmost seriousness, and of little consequence. The ability to defend and revel in its inconsequence is a matter of importance in a human society that is constantly expanding and shrinking its limits of permitted expression. In a culture where power calls the shots, the liberating qualities of comedy, which so often crumbles deceits beneath the prodding thumb of ridicule, can be more dangerous than tragedy. Then again, maybe it's all just fun."

---
SOCIAL DISTANCING AND THE ART OF VIRTUAL VIEWING
---
WITH GALLERIES AND MUSEUMS SHUT DOWN, the visual arts are also taking to virtual reality: Online shows are popping up all over the place. What you miss in texture, size, tone, and the "breathability" of a painting or sculpture viewed in person – nothing can substitute fully for seeing a work of art up close – you gain in immediate accessibility.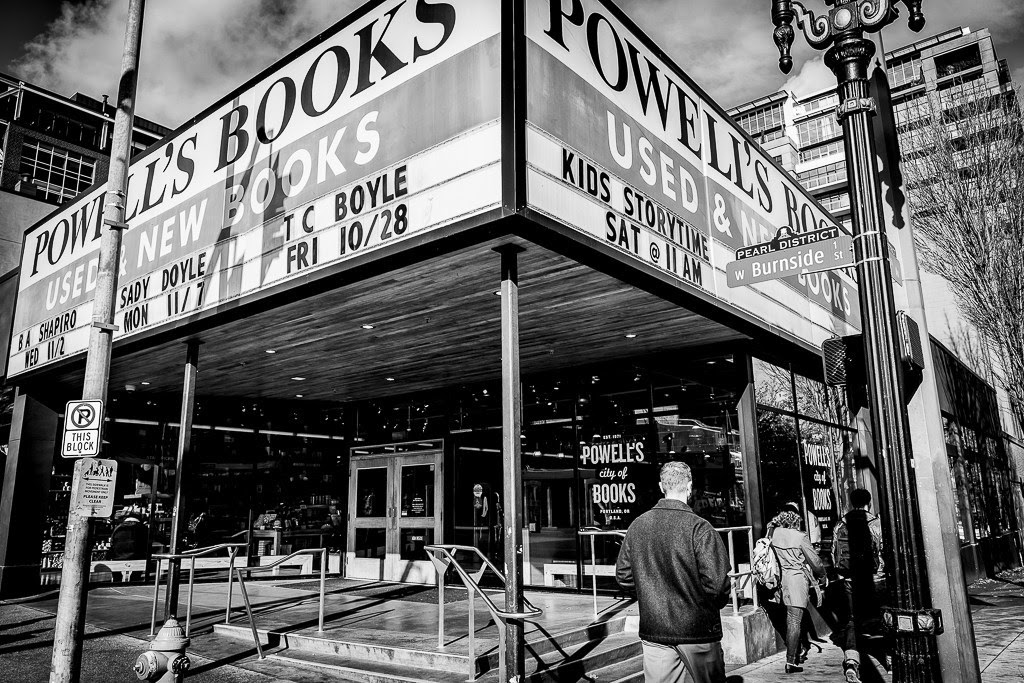 ---
HOW YOU CAN HELP
---
FOR MANY CULTURAL GROUPS, LONGTERM SURVIVAL IS SUDDENLY AN ISSUE. If you have the means, this is a very good time to give some extra financial support to the group or groups that speak to you. There isn't one that wouldn't welcome your help. Portland Opera, for instance, has just announced its forced cancellation of the rest of its season: Bajazet, the Big Night concert, Pagliacci, and Three Decembers. That represents a massive box office loss. Let your contributions flow to where your interests and your heart are.

Portland Opera is set to open its next season in September with Robert Xavier Rodríguez' "Frida." The rest of its current season has been canceled. Photo courtesy Portland Opera
***
DON'T FORGET THE MANY INDIVIDUAL ARTISTS WHOSE LIVELIHOODS have been deeply impacted by the shutdowns that have swept the cultural world. Portland Creative Laureate Subashini Ganesan and Oregon Poet Laureate Kim Stafford have launched PDXARTISTRELIEF.COM, the Portland Area Artist Emergency Relief Fund, a much-needed effort to help provide emergency relief to artists in Multnomah, Washington, and Clackamas counties facing financial crises because of coronavirus shutdowns. As of Wednesday evening, Ganesan reports, the fund has received $100,100, but the need is considerably higher: The fund received 555 applications within its first week, and so far has identified 245 who will receive part of the $680,047 they collectively requested. More help is needed.
***
OREGON ARTSWATCH ALSO WELCOMES YOUR HELP during the coronavirus crisis. A contribution goes a long way. Many of you are already ArtsWatch financial supporters. Thanks for that. If you can, this is a good time to bump up your contribution, or contribute for the first time. ArtsWatch gives crucial voice to all of arts and culture across Oregon. We're here for you, and the artists, and the art. Here's how to help:
Give today. Keep the stories coming.
JOIN US AT ARTSWATCH. Become a member. Make a donation. It's easy. Just press the "donate today" button below.