TODAY WE ARE IN EXPLOSIVE TERRITORY. Portland and the nation are entering the eighth day of mass protests against the brutal slaying at police hands on May 25 of a Black man in Minneapolis, George Floyd. He was the latest in a seemingly endless line of Black men, women, and sometimes children to be killed under what at the very least can be called questionable circumstances. If anything, the protests are getting larger as the days draw on: On Tuesday night, The Oregonian reported, more than 10,000 people gathered in downtown Portland, where many storefronts are boarded up against looting and destruction. A like number poured into downtown on Wednesday, with crowds also filling the bridges and areas of the East Side. The protests were largely peaceful, but police in some cases deployed tear gas and explosives.

In Washington, D.C., the president staged a Bible-clutching photo op and took an aggressive line, blaming violence on leftist Antifa elements without evidence, calling on Antifa to be declared a terrorist group (evidence points to right-wing white supremacist groups posing as Antifa), and calling on the military to deploy to the nation's cities and put down protests. Several current and former top brass demurred, saying it is not the military's role to turn against its own citizens exercising their right to free speech. Mysterious armed guards deployed near the White House; they turned out, as Philip Bump reported in The Washington Post, to be from the U.S. Bureau of Prisons, a branch under the jurisdiction not of the Pentagon but of the politicized Bureau of Justice. Historian and cultural commentator Heather Cox Richardson gives some context: "This is problematic for a number of reasons. First, according to Holocaust scholar Waitman Wade Beorn, who studies ethical decision making in the military, it's a problem because soldiers are trained to defend civilians while prison guards are used to seeing civilians as their enemies, and are accustomed to using force, rather than de-escalation, to subdue them. The U.S. military, Beorn points out, does not like to be employed against Americans, and has a long tradition of that reluctance."

Meanwhile, as masses of people gather together in protest, the coronavirus pandemic has not gone away. It's here, it's real, and the nation's unrest could send the numbers of infections and deaths spiking sharply again. We are far from out of these woods. And that, very briefly, is how things look today.

---
---

A gallery for our moment
HOW DOES THE WORLD OF CULTURE AND THE ARTS FIT INTO ALL OF THIS? Artists tend to move slowly while events move swiftly, but the responses they give to what happens in the world have lasting depth and resonance. If they aren't the first on the scene, they are often among the most profound. Much of what we know about how human beings respond to times of crisis comes from what artists over the centuries have created from it: views that come both from the head and the heart. For the past eight years I've kept a daily journal of works from art history, presenting images and often giving them contemporary meanings and reactions. Here's a small slice from that series of works that speak in one way or another to our present crisis, though their original "meanings" might have been different in their own times.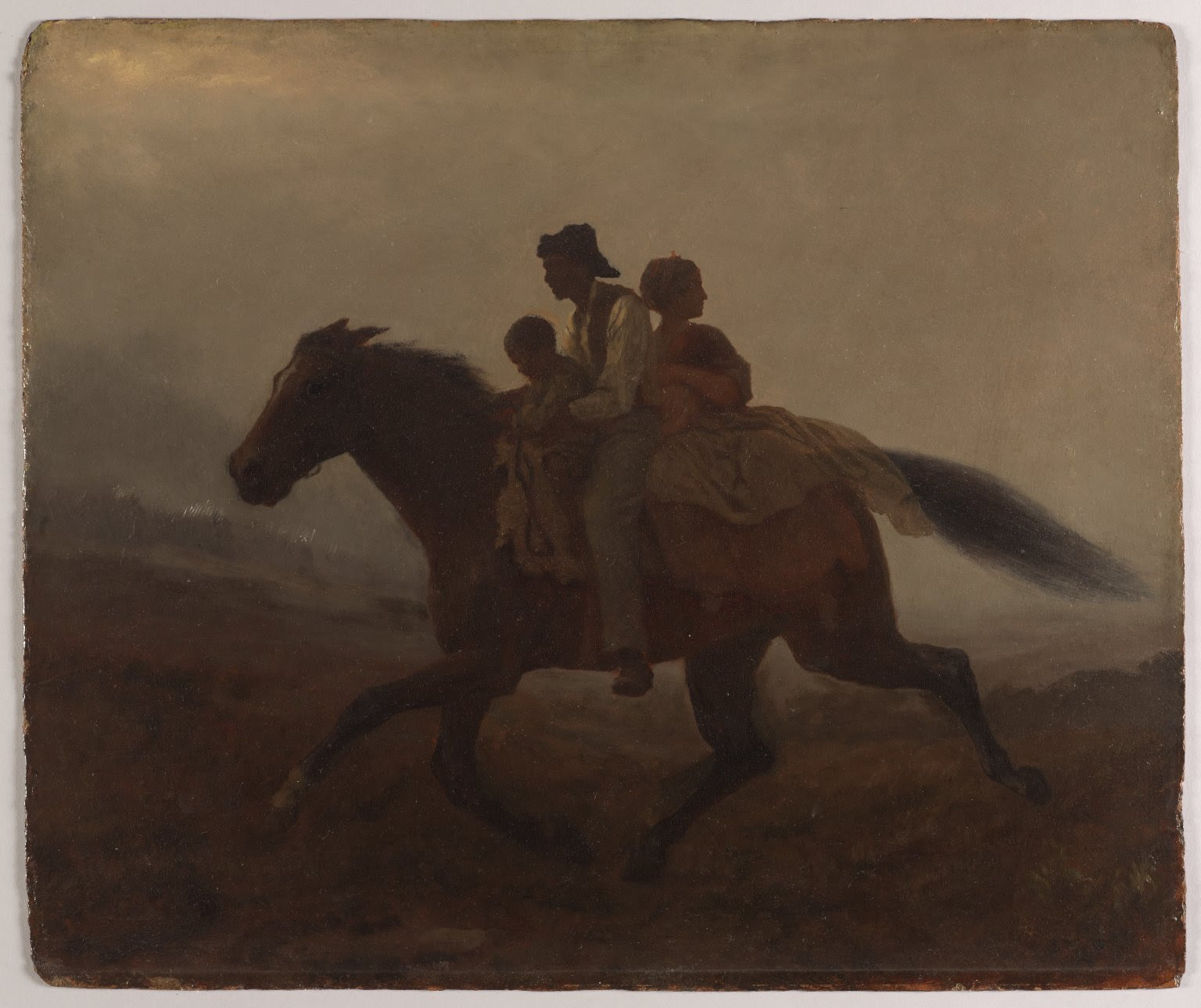 "Today I am flying. Across the battlefield, away from the slavers, to lord knows what: just north, north, where we'll not be owned. We saw our chance, and leaped: We are our own Underground Railroad, flying fast and furious in plain sight. We'll get there, or die trying. Just, move! And now, tell us: What are we leaping to? Will we be safe where you live? Will time heal? Will we be free? In this nation, can we simply be?"

– Eastman Johnson, A Ride for Liberty – The Fugitive Slaves, ca. 1862, oil on paperboard, 21.9 x 26.2 inches, Brooklyn Museum, New York
***
"Today I am in a panic. I have fled from bad to worse, and now I am fleeing again. I am losing control – a stranger in a strange land, running, hiding, running, caught. They are coming. They have found us. We are trapped. We are falling over the edge. I do not know where the children are. I do not know what will become of them."

– Bill Traylor, Untitled (Blue Man on Red Object), ca. 1939-42, poster paint and pencil on cardboard, 11.75 x 7.75 inches, High Museum of Art, Atlanta, Georgia. Photo © Mike Jensen
***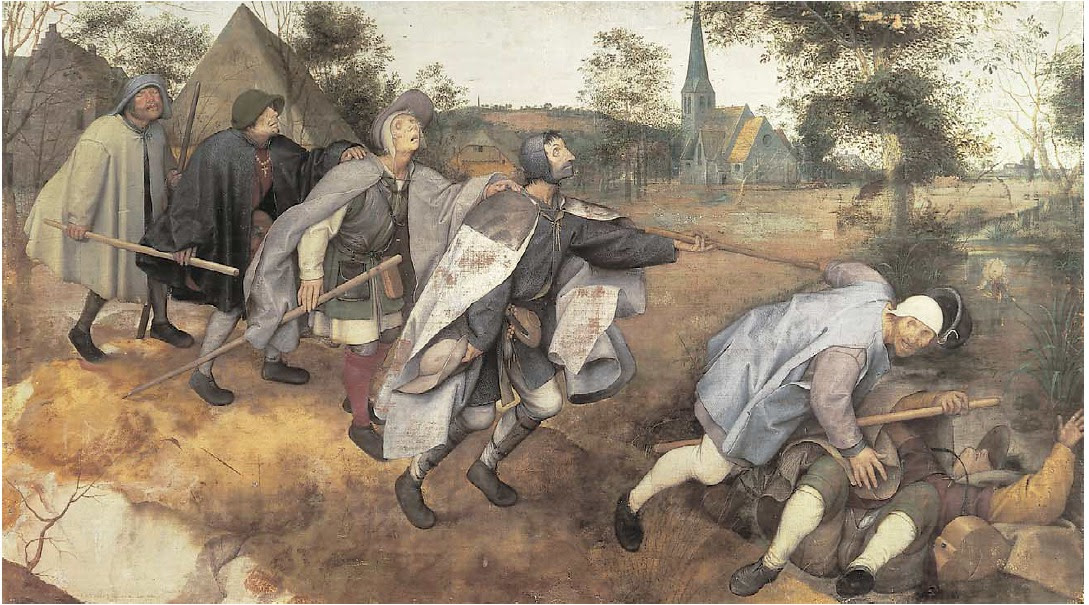 "Today I am a blind man. See: I am leading the blind! They'll follow me anywhere, for God and mammon are on my side. Move, fellow! You're in my way. Where are we headed? Why, over the cliff to make a war, of course. We'll join the deaf-to-reason and just plain dumb in a fine coalition. I may lack sense and any shred of decency. But trust me: I have the vision thing."

– Pieter Brueghel the Elder, The Blind Leading the Blind, 1568, distemper on linen canvas, 34 x 61 inches, Museo di Capodimonte, Naples
***
"Today I am fighting a war. Across Europe and North Africa and the Pacific, yes. But right here, too: Philadelphia, Birmingham, Baltimore, New York. Cities large and small, fighting soldiers in sheets and hoods and suits and ties and working jeans and wrapped in the law itself. Fighting for freedom. Lady Liberty, whose side are you on?"

– Horace Pippin, Mr. Prejudice, 1943, oil on canvas, 18 x 14 inches, Philadelphia Museum of Art
***
"Today I am defiant. 'Reforms' come and go. Promises are made. Pockets are lined. And still we are put out of work, and still we are overcharged. I've had enough! You dare call us rabble? We are bloody well roused! Take heed: This time, we fight for our rights. For our jobs, our time, our families. We will unite. To the barricades!"

– Honoré Daumier, The Uprising, 1848 or later, oil on canvas, 34.5 x 44.5 inches, The Phillips Collection, Washington, D.C.
***
"Today I am beside myself. In the midst of crisis, you've let your demons loose and made us scapegoats again. You 'proud boys', you 'anarchists', you 'boogaloo bois', you 'keepers of the peace': You've stirred your lethal pot, and left me and mine to pay the price. You'll disappear, and play your poisoned games, and strike again. And we will carry on. Yes, I'll sell you flowers, if you take your knee off my neck. But I won't serve you with a smile. That's done."

– Frédéric Bazille, Young Woman with Peonies, 1870, oil on canvas, 23.6 x 29.5, National Gallery of Art, Washington, D.C.
***
"Today I am beyond words."

– Käthe Kollwitz, Self-portrait, Hand at the Forehead, 1910, etching and dry point, 6.1 x 5.5 inches
---
---
---
---


Christo: An astonishing fence that did not divide

CHRISTO, THE CO-CREATOR WITH HIS WIFE AND PARTNER JEANNE-CLAUDE OF MASSIVE temporary artworks around the world, died on Sunday at age 84, and though he never quite entered the popular imagination on the scale of a Warhol or Picasso or Dalí, his influence ranged far beyond the often insular art world and shifted the way that many people from many walks of life thought about the possibilities of art. He and Jeanne-Claude inserted themselves into both nature and history – surrounding islands in pink wrapping in Biscayne Bay; creating an "iron curtain" of oil barrels in Paris in response to the building of the Berlin Wall; transforming the Reichstag, a building with an ugly history, with a sheen of beauty. Christo was akin to a brand-name architect, creating the broad strokes of complex projects that took many talented people to realize. And he was like a masterful politician or a diplomat, carefully threading the conflicting desires and attitudes of hundreds of people and interest groups to achieve something big that everyone, or most everyone, could agree was worth the effort.

In 1974, after brief residences near Boston and in Upstate New York, I returned to my native West Coast. One day not long after, I found myself driving through the hills of Sonoma County north of San Francisco, a dry and undulant place of yellows and greens, and happening upon the most amazing sight: mile after mile of fabric fencing, rippling in the breeze, gliding over the contours of the land for no apparent purpose but to be, and to be beautiful. I was utterly unprepared for the sight, and utterly swallowed into its spell. I knew nothing about the complex preparations for what I later learned was Christo's 24.5-mile-long project Running Fence. I encountered it with virgin eyes and an open mind: the very best way, I think, to see such a thing. Running Fence was an open closure, expanding imaginations as it temporarily separated space. Decades later, it's impossible for me not to compare it, favorably, with the malicious and folly-driven Mexican border wall that is designed not to unleash imaginations, but to inflame passions and prejudices. Thank you, Christo and Jeanne-Claude, for that.
---
The band plays on, PNCA cuts staff, other tales 
 
VIRTUAL AND VITAL: STRIKE UP THE BAND. Caught short by the Covid-19 pandemic, the Metropolitan Youth Symphony takes to technology and shows that shutdown doesn't have to mean shut up. In the most recent story in ArtsWatch's "The Art of Learning" series, Brett Campbell relates how a platform usually used for multiplayer online gaming led the youth orchestra to a packed series of Virtual Hangouts with leading musical professionals and, ultimately, a full virtual concert by the young musicians, playing together in isolation.

PACIFIC NORTHWEST COLLEGE OF ART TO DOWNSIZE AMID FINANCIAL CHALLENGES. The Oregonian's Jeff Manning reports that the city's surviving art school, which has been running deficits, expects a 20 percent drop in enrollment in the fall and is responding by making sharp budget cuts, including laying off 10 faculty members or other staff and putting 15 percent of staff on furlough.

FOR ONE THEATER, A 'MARVELOUS' WAY TO PERFORM IN LOCKDOWN. Seacoast Rep, in Portsmouth, N.H., is producing real. live. theater. during lockdown – not monologues or taped interviews or streams of old performances, but fresh productions with live actors and fresh sets and costumes, livestreamed in real time. Elizabeth Vincentelli tells a fascinating tale in The New York Times of creativity in confinement. 
DON'T UNDERSTAND THE PROTESTS? WHAT YOU'RE SEEING IS PEOPLE PUSHED TO THE EDGE. The great basketball star Kareem Abdul-Jabbar, who went on from a career as the NBA's leading all-time scorer to a perhaps even more distinguished life as a writer and cultural leader, puts it in perspective in an opinion piece for the Los Angeles Times: "African Americans have been living in a burning building for many years, choking on the smoke as the flames burn closer and closer. Racism in America is like dust in the air. It seems invisible — even if you're choking on it — until you let the sun in. Then you see it's everywhere. … What you should see when you see black protesters in the age of Trump and coronavirus is people pushed to the edge, not because they want bars and nail salons open, but because they want to live. To breathe."
WHAT HAPPENS TO POWELL'S BOOKS WHEN YOU CAN'T BROWSE THE AISLES? New York Times business columnist David Gelles interviews Powell's chief Emily Powell on how things look along the path to reopening Portland's iconic book emporium: "You have to be comfortable touching a book, pulling it off a shelf and putting it back and lingering in an aisle. And that's going to take quite a bit of work on our part, which we're happy to do, but we have to be able to pay our bills at the same time. … We will figure it out, but it will be a very different business and it's going to take us some time."
POLICE OFFICERS LIKE ME MUST EARN OUR COMMUNITY'S TRUST. In an opinion piece for The Oregonian/Oregon Live, Portland police officer Peter Braun offers an inside perspective on what it's like to be both a private citizen in shock over the slaying of George Floyd and an officer sworn to defend the peace: "I remain proud to be a police officer, especially for the Portland Police Bureau. I see the good work we do. I also know that I have to live with the shame of what Derek Chauvin and others who have worn a badge have done. … I promise that I will not let what happened to George Floyd happen on my watch."
THINGS BEGIN TO STIR AT THE COAST. Hankering to see a movie outdoors, or write an online play, or listen to an orchestra player, or catch a gallery show? Put a bird on it: The Oregon Coast is starting to stir, Lori Tobias reports.
REN FAIRE: SAME TIME, NEXT YEAR. A historic plague knocks this month's Oregon Renaissance Faire off its high horse. Fear not, fair lads and lasses: Photographer K.B. Dixon pictures last year's gathering of the faithful as the jugglers, knights, and bards look ahead to next year.
"Tournament," 2019. K.B. Dixon catches the action at last year's Oregon Renaissance Faire.
Bob Hicks has been writing about arts and culture in the Pacific Northwest since 1978, including 25 years at The Oregonian. Among his art books are Kazuyuki Ohtsu;  James B. Thompson: Fragments in Time; and Beth Van Hoesen: Fauna and Flora. His work has appeared in American Theatre, Biblio, Professional Artist, Northwest Passage, Prologue, Art Scatter, and elsewhere. He also writes the daily art-history series "Today I Am."